NEW TECHNOLOGIES, NEW ENGINES, NEW MARKETS AND NEW FACES IN ISTANBUL
KOMATEK 2024, 17th International Construction Machinery, Technology and Equipment Trade Exhibition will be held at IFM Exhibition Center in Istanbul, between 29th May-1st June 2024.

KOMATEK 2024 will be an excellent place to witness new technologies, machinery and products; meet with proper people to develop new business; penetrate a new market; learn the dynamics of the sector as well as the geography.
İSTANBUL
The Historical Capital of the Orient
One of the crowded and largest metropols of the world, İstanbul is a city to visit. More than 16 million people live in this extraordinary megapolis, lying over 165 km from Asia to Europe.

İstanbul has been the capitol of the Ottoman Empire and many other previous cultures and is a trade and industrial capitol, as well. Istanbul and the environments constitute around 35% of the Turkish economy, not only by industry and business but also by tourism.


Weather Conditions
Summers are hot and humid and the winter is rather cold with freaquent rain and even snow. Average expected conditions during KOMATEK 2024 would be 24-28 degrees celsius.


Sightseeing & Touristic Attractions
There are an unlimited number of places to see and visit in İstanbul , The city itself is virtually a historic site where one encounters a historic building, mosque or palace wandering around the old town. Few of the most renowned places to visit could be Hagia Sophia Mosque, Topkapı Palace, Grand Bazaar, Blue Mosque, Spice Bazaar, Süleymaniye Mosque.
Please reach our official travel agency
Alabanda Tourism
in order to reach the advantages provided on your travel & accomodation.
THE VENUE
KOMATEK 2024 will be organised at IFM – ISTANBUL EXPO CENTER 2-4-5-6-7-8 Halls and the Outdoors Area.

IFM was founded to make Istanbul one of the leading exhibition capitols. The venue is the largest in the Country and most accesible with viscinity to the major airports and motorways. The Underground Rail System runs through the Venue which has proper infrastructure; extensive parking and 11 individual Halls.
The largest venue in Türkiye.
Over 100 exhibitions are run every year.
11 Halls covering an area of 249.000m².
Is a part of the World Trade Center business system established in 100 countries with over 300 members.
KOMATEK2022 in NUMBERS
KOMATEK2022 16th International Construction Machinery, Technology and Equipment Trade Exhibition was successfully held during 9-13 March 2022 in Antalya Anfaş Expo Center.

In our exhibition, which took place in a net stand area of 28,314 m2, including 17,224 m2 outdoor area and 11,090 m2 indoor area, a total of 15,232 visitors, of which 1,057 were foreigners, had the opportunity to examine the products presented during the 5-day exhibition.

Our exhibition provided the promotion of the products and services of our 220 exhibitors, 40 of them foreign, coming from 18 countries in total.
SUPPORTERS
KOMATEK 2024 exhibition is supported by the strongest associations, institutions and organizations of our industry.
PRIMARY SUPPORTER

The Turkish Construction Equipment Distributors & Manufacturers Association (İMDER)
, which was established in 2002 to represent the construction machinery equipment sector, has 95% of the sector under its roof.
İMDER
's members, which have contributed directly and indirectly to the growth of the Turkish economy since the day it was founded, have succeeded in exporting to nearly 150 countries.
Successfully representing the Turkish construction equipment market in all organizations related to the sector,
İMDER
continues its activities effectively and strongly in national and international platforms.
İMDER
; It continues to work to add value to the Turkish construction machinery industry and its members with its international partners covering a wide geography from India to China, from Japan to America, from Brazil to Europe, from Indonesia to Africa and Korea.
The structure of
İMDER
, which is one of the limited organizations authorized to use the name of Türkiye, gets stronger every year with the participation of new members.
SUPPORTER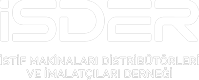 The Material Handling, Storage & Industrial Equipment Association of Türkiye (İSDER)
set out in 2006 with the aim of uniting material handling, storage&indurstrial equipment industry under one roof, together with the companies with Türkiye's unique engineering ability, quality of workmanship, R&D and technology dominance. As of today, it continues to represent our sector with nearly 60 member companies. Among the members of
İSDER
; There are companies that manufacture and trade personnel lift platforms, forklifts, cranes, warehouse and rack systems, lifting equipment and units, conveyors and intralogistics systems.
İSDER
, which has strengthened and grown since 2006 and has become the most important representative of the stacking, transport and lifting equipment industry, continues to represent our industry effectively both in national and international platforms with a representation rate of close to %80.
İSDER
creates its structure in line with the standards of FEM (European Stacking Machinery Federation), of which it is a member, and carries out its activities related to the sector in this direction.